Full-Time Nurse/EMT/Paramedic: Burlington, WI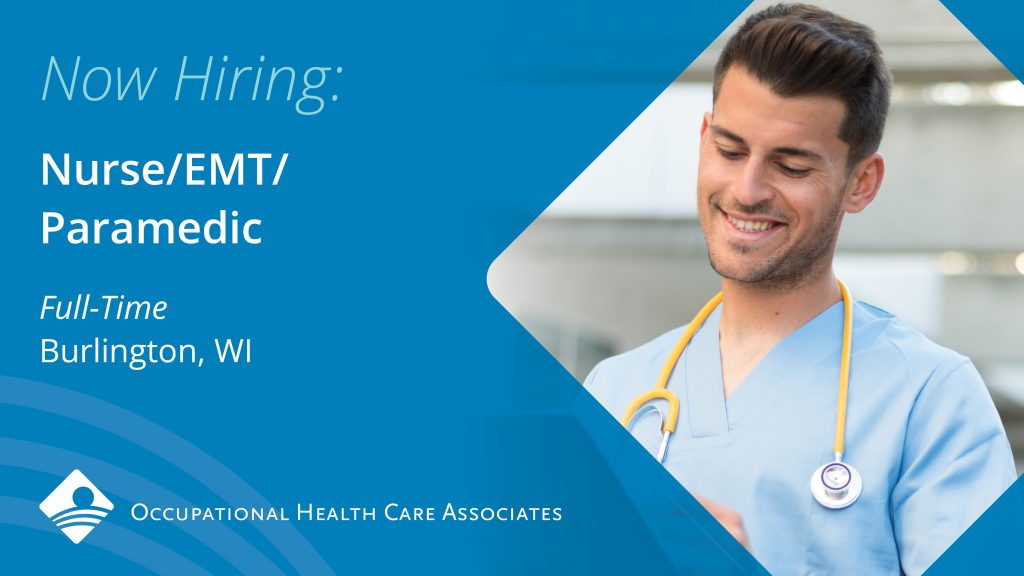 Job Description:
Occupational Health Care Associates has an opening for a full-time Occupational Health Nurse to work on-site.  The qualified candidate will perform the following, but not limited to, job duties:
Responsibilities Include:
Monitor occupational and non-occupational injuries/illnesses in order to facilitate a safe, healthy work environment.
Care and triage employee injuries/illnesses- observe and document proficiently.
Active nurse navigator as employee resource point of contact for medical information.
Develop relationships with local medical providers to understand the company's expectations and philosophies.
Supporting successful plant health and safety programs.
Administrate early Return to Work (RTW) programs.
Administrate respiratory protection, audiometric, Blood borne pathogens and any additional employee health/safety programs.
Wellness education including-health fairs, weight management programs, blood pressure screenings, cardiac/diabetes screenings, and smoking cessation.
Assist and ensure compliance with the Family Medical Leave Act (FMLA) as needed.
Maintain OSHA 300 log.
Maintain confidentiality of medical records and information in accordance with Health Insurance Portability and Accountability Act (HIPPA) laws.
Perform other duties as needed.
Qualifications:
Current Registered Nurse (RN/LPN) license inWI.
1-2 years Workers' Compensation/Occupational Health experience preferred. But will train.
Ability and willingness to train.
Reliable and punctual.
Excellent organization and ability to self-manage time.
Excellent computer skills.
Excellent communication skills – written, verbal, and interpersonal.
Benefits:
Paid Vacation/Holidays
Retirement
Benefits
Additional Information:
All your information will be kept confidential according to EEO guidelines
To apply for this position, please fill out the form below.